There has been an increase in the number of students seeking admission to B.Ed course following the decision of Government of Karnataka to make B.Ed degree mandatory for employment in High schools and Pre University colleges. To meet this demand and to help rural students to acquire B.Ed degree the Management of LDKME Society decided to start " Sree Kongadiyappa College of Education" offering B.ED. Course in its premises and hence applied for permission to start B.Ed course from various concern authorities as detailed below.





---

The degree college started in the year 1973 offers professional courses of Science, Arts and Commerce in the under-graduate (B.Com, B.Sc and B.A) and post graduate levels (M.Sc (Mathematics) and M.Com). New combinations of subjects such as Computer Science, Optional English and Journalism were introduced. This college is affiliated to Bangalore University.

The management of the well known and reputed educational society - LDKMES ® Started M-Sc Mathematics and M-Com courses nearly a decade ago .The two courses are being taught by highly qualified, experienced and efficient staff.During the last two years all students of M-Sc and M-Com got distinctions in there respective exams. Not just these all students who passed out from this collage have been well employed in various fields especially in the academic field so much so education institutions and companies look forward to our college for their employment needs and are in constant touch with our college for this purpose.

---

Sri Kongadiyappa College is having tie-ups with overseas colleges & industries of high-end professional field, which will help its students to practice real life business situations. Kongadiyappa college has also built up relationship with big industrial estates, Special Economical Zones (SEZ), garment industrial estates etc in the surroundings of the college. This will be helpful to the students to have an immediate exposure to the industrial business practice.
About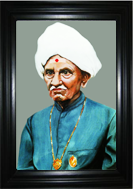 It is a tradition to have an educational institute named after the people who donated huge amounts of money. It is very rare to have an educational institute in the name of a very poor primary teacher. It is the greatness of Doddaballapura people not just honors Sri. Kondadiyappa by opening an institute in his name and also serve in the institution. Sri.Kongadiyappa was born in the year 1861 and was the eldest among his four brothers. Due to financial poblems Sri. Kongadiyappa discontinued his education but his aim was to provide good education for his brothers. Sri. Kongadiyappa College is educating students in the latest fields of Education including Science, Computer Science, Arts, Economics, BSc microbiology & Master degrees MSc & M.com disciplines. The college is having well-maintained, huge Library and well organized teaching staff.
Sri Kongadiyappa College
---
(An educational institute of Lokasevaniratha D Kongadiyappa Memorial Education Society®)
Post Box No.17, Doddaballapur – 561 203,
Bangalore Rural Dist., Karnataka
---
Contact us:
080 – 27622026,

+919741371681